Code for KC Right Now!
Open GitHub Issues on our projects that need your help.
Who We Are
We're Kansas City's chapter of the Code for America Brigade network, a group of civic-minded geeks who volunteer our talents to projects that improve how our local governments and community organizations use the web. We strive for principles of open data and technology advocacy for civic good and are supported by our host organization, KC Digital Drive. The Brigade is about action, so join us at a Hack Night where we'll commit code to make a difference in our city!
Meet the Teams
Since the HackKC hackathon in June, six teams have been working hard at our weekly Hack Night to develop apps that citizens of Kansas City will use to enhance the way they interact with their local government and communities around them. These teams include:
SafeAssist: is being created to provide a vehicle for caregivers and individuals to share pertinent health and behavioral information to help first responders process the dynamics of those service calls much more effectively and safely, while increasing the overall quality of service. Primary language: PHP/Laravel, GitHub, Slack
KCNeighborhoodStat: brings together civic data from different sources for a specific neighborhood in a customizable dashboard. Primary language: Ruby on Rails GitHub, Slack
Parcel Assessment Tool: a tool that can be used to create more transparency in land ownership, zoning and entitlements for specified sites.
Vacant 2 VibrantUNI and UMKC Law department are currently developing content to create a step-by-step process for walking a potential developer through the process of acquiring the vacant property. The goal of the site is to make the process easier and more transparent, so more local citizens can develop parcels in their neighborhoods. GitHub, Slack
CommunityKC: CommunityKC is a website that maps current projects happening in the Kansas City METRO Area. This extends beyond neighborhood boundaries and the state line to include ALL of us Primary language: PHP/Drupal, Slack
Project Property Violations - Helping KC Understand Code Violations. GitHub, Slack
Delivered Projects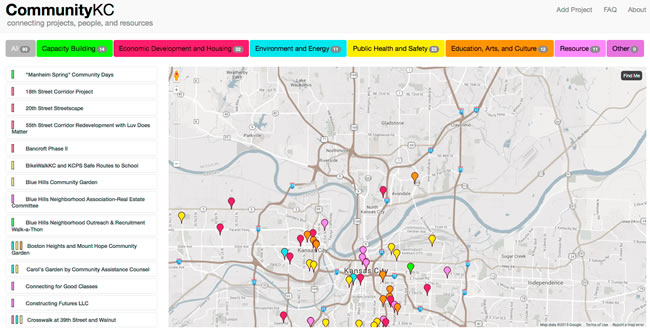 Hack With Us
We meet every week on Monday night to hack, socialize and learn. Join us on Meetup for the latest info. Upcoming meetings:
Thanks to our Sponsors

Interested in becoming a sponsor? Contact Aaron at KC Digital Drive: adeacon@kcdigitaldrive.org
Stay in Touch
Got a question? Contact Brigade captain Paul Barham at captain@codeforkc.org. Sign up for our mailing list to receive updates.